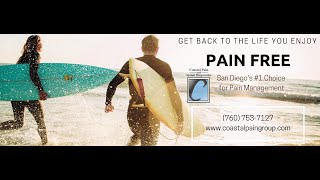 Coastal Pain & Spinal Diagnostics
Coastal Pain & Spinal Diagnostics
At Coastal Pain & Spinal Diagnostics, our mission is to enhance the quality of life of our patients. We are passionate about treating those who suffer from pain, and we empathize with chronic pain's burden on you and those closest to you.
When our patients first come to us, they are unable to enjoy daily activities with their families and loved ones. Whether they are trying to enjoy a nice evening stroll or a round of golf, their pain often takes the joy out of their lives. We tailor each patient's care uniquely to their needs to help them manage their pain, so they can get back to living normal lives. We provide clinically proven solutions to fill your life with Less Pain, and More You.
Our staff makes an exhaustive effort to give our patients expedient appointments and respond to their needs, because we want to maintain the highest possible patient satisfaction. We are accepting new patients, have minimal wait times, and are eager to help you with your pain issues.
Contact us today for an appointment!